What is Rogers Scholars?
October 4, 2019
Many people pose the question, what is Rogers Scholars? Rogers is what you make of it. To some, Rogers is the excursion club of Hutchison in which the administration releases a gaggle of upperclassmen upon the greater Memphis area once a month. To others, it is a place where conversation and debate come together to forge greater understanding about issues of the Midsouth Area. Rogers molds to every student to create a personalized individual experience. Rogers is greater than merely an extra line on a resume. This year, our guiding theme for Rogers Scholars is "Memphis Through Time: Understanding the issues of our past to create the solutions for our future." This theme is crafted to tour the sites of great change and development of our past in Memphis, but also the parts of our past that have led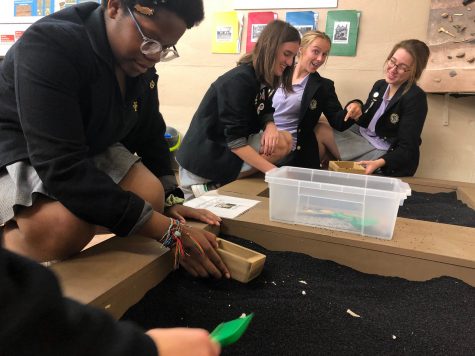 to systematic injustice that still plagues us today. These points of the past will be coincided with the places of our future where we can see the progressive Memphis we know and love today striving to change this past. However, we can also identify the gaps in where we have failed to make solutions. Rogers strives to create targeted problem solvers, aware of the great complex story that Memphis is. Along with this, a new requirement for Rogers Scholars this year will be for each group to create a tangible project or presentation surrounding the site that we tour. This would not only be for the Rogers girls, but to share with the greater Hutchison community to share in the knowledge that we have gained. Rogers is a place for problem solving, a place for engagement, and a place for change. Look out for updates in upcoming publications!