That's a Wrap: Music in 2020
The number of people who put down Juice Wrld and Lil Peep as their top artists would be alarming in any other circumstance, but we're talking about 2020. It's no secret that this year was hard for everyone. A global pandemic merely headlined the array of heartache we have experienced in recent months. (But seriously… Lil Peep? Are you guys okay?)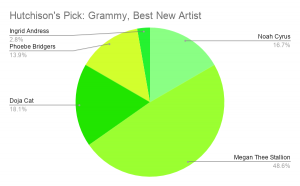 Present last year, when many things typical to daily life weren't, was music. Long-awaited releases from a multitude of music-industry heavy-hitters arrived, as well as break-out projects from faces that have quickly become familiar.
Dominating the airwaves were albums like Harry Styles' late 2019 release, Fine Line, a pair of surprise albums from Taylor Swift, and The Weeknd's After Hours.
Early hits like "Blinding Lights," "Dance Monkey," and "The Box" held strong throughout the year to come out as Spotify's most streamed songs of 2020. Here at Hutchison, our unique environment resulted in a different hierarchy of artists and standout songs.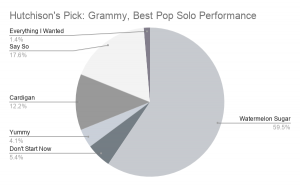 Juice Wrld, Kanye, Taylor Swift, and of course our boys from One Direction topped the students' list of artists, while the clear standout for song of the year is Olivia Rodrigo's "All I Want." Her follow-up, "drivers license," has a strong chance of topping 2021's list as well, but let's hope that's where the similarities to last year end.
In 2020 Tik Tok continued to gain popularity (and hours of screen time) among teens across America, emerging as a powerful outlet for musical exposure. The app's influence on a song's image is, however, a double edged sword.
While the platform is an excellent place for finding new songs to love, hearing music on Tik Tok can also have the opposite effect. 
Breland Meyers '22 reflected that, "I like when I find songs [on Tik Tok], but I get annoyed when they are overplay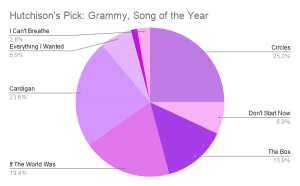 ed." Her sentiments were echoed by juniors Hayden Miller and Lawson Bolton. "I'm normally put off by them," agreed Hayden,
 "'l'lI think of them as Tik Tok songs."
The trio also reflected 
on the amount of music they listened to in 2020. Not only was last year especially emotional, but also a pivotal year for many highschoolers for a different reason: "I definitely listened to more music since getting my license," reflected Lawson. 
"I only listen to music when I'm driving," confirmed Hayden.
"Same. Unless I'm crying. Or in the shower," added Lawson. 
Happy (or in Lawson's case, sad) listening Hutch!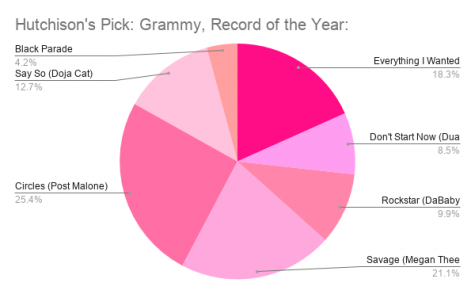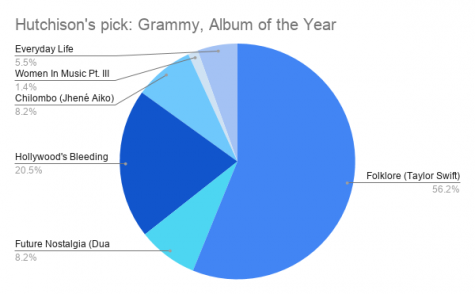 Leave a Comment