The Effect of Music
March 1, 2019
Since the beginning of time, the human race has attempted to express itself through the fine arts. Various art forms have been used to communicate what words cannot and show emotions that are stronger than words can convey. In particular, I am focusing on the art of music. Whether it is pop, rap, musical theatre, alternative rock, Motown, or any other genre, I believe that music has an effect on human behavior. You probably have specific Spotify playlists that cater to specific feelings because you associate those songs with different emotions. Without thinking about it, if I played an upbeat song like "September" by Earth, Wind, and Fire, your mood would most likely immediately improve. If I played a slower, more melancholy song such as "Rivers and Roads" by the Head and the Heart, your mood would most likely begin to shift the other way. Music has more power over our emotions than we know, and it has impacted the progress of human culture.
A great example of how music is a more prominent gateway to the emotions than words is to compare musicals to plays or movies. For example, the movie "Heathers" directed by Michael Lehmann is arguably one of the most iconic high school movies of all time, notorious for its blunt language and quotable script; however, it becomes much more powerful when those lines are converted to song. In 2014, Heathers: the Musical hit the stage Off-Broadway. While the musical still holds all of the haunting aspects of the movie, its soundtrack goes above and beyond to create more vivid and expressive scenes. Some of the more powerful lyrics from the soundtrack include, "I wish your dad was good. I wish grown-ups understood. I wish we'd met before. They convinced you life is war." While the movie was able to successfully construct these new characters, the lyrics produced specifically for the musical create more depth to each characters and toy with many emotions such as sympathy and sadness. These particular lyrics create a powerful and devastating scene between the two leads which shows the complexity of their relationship and makes the listener feel the weight of their damaged perspective. Creating entire songs to replace single phrases in the movie put that much more emphasis on the emotional aspect of the story. The music affects each character's behavior and mood throughout the show in a way that the movie never could. This method of creating music to tug at the human emotions has been used over and over in hordes of shows. You have to convey the meaning in a way that everyone can relate to, and everyone can relate to music.
Music has also impacted the development of human culture in ways that we don't even realize. Take the band The Beatles for example. They are one of the most influential bands in the history of music.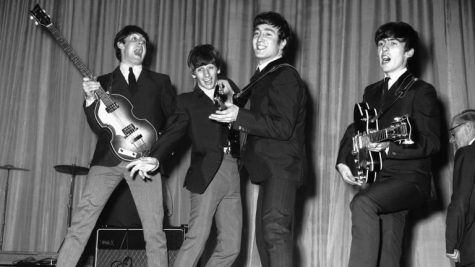 Their music brought people together and made the boundaries of race, gender, age, religion, and other distinctions disappear. In a documentary of their touring days called "The Beatles: Eight Days a Week," Ringo Starr, the drummer for the band, states, "We played to people. That's what we did. We didn't play to those people or that people, we just played to people." I believe this quote is applicable to all music in general. Music isn't made for specific people. Music is universal. In another section of the documentary, it discussed John Lennon's controversial comment, "We're more popular than Jesus!" Although his comment instigated a lot of hate and conflict for the band, it wasn't completely untrue. He states in an apology video that he was simply stating the fact that their music was more influential on young people than Christianity was at the time. It affected young teenagers and how they grew much like music does with teens today. Our culture is still largely influenced by music whether you realize it or not, and it is a constant existence in our day to day lives.
Music is a huge part of who I am and how I live my life; it is so significant to how we express ourselves, and it is an easy doorway to the emotions. Making music is an outlet to what speech lacks. I believe the effect of music on human emotions and culture is incredibly important to understand and will always be present and relevant as life goes on.