Winning Woodbury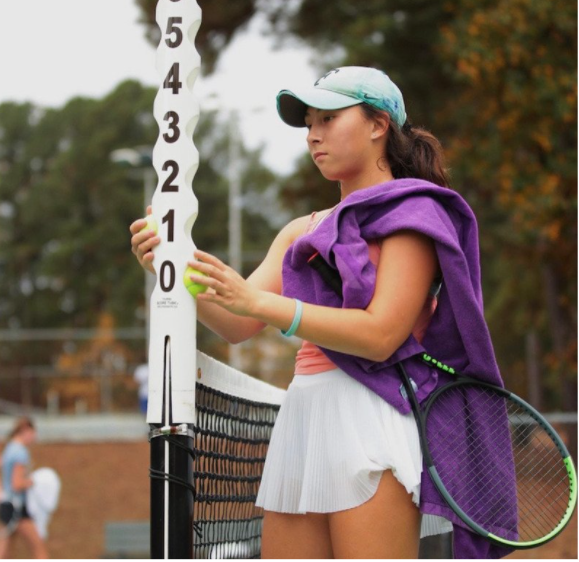 Tennis training season has begun for athlete Melanie Woodbury '24. After receiving many significant wins last year, including the doubles state championship, she will have a large audience and lots of support. Along with winning the championship, Melanie is ranked second in the state of Tennessee and is hoping to attend a  Division I university. Melanie is a role model for many tennis players because she puts lots of time and effort into her sport, and she has a hard-working mindset that pushes herself to her limits to improve every day. She is very passionate about tennis and has several goals for this year. 
Signpost interviewed Melanie about how it felt to win the doubles state championship last year and she said, "It felt really cool winning state because I remember being in middle school and seeing that my sister won the championship, so I was excited that we could win it together." Melanie said she was inspired by her sister and parents to begin playing tennis in lower school. According to Melanie, the first time she ever played tennis was when she was 5 or 6. She usually practices 4-5 days a week with her sister Stephanie Woodbury ('22) and attends competitive tournaments that last around 2 to 3 days on the weekends. Her favorite parts about tennis are traveling, making new friends, the feeling of winning, and playing in team events. Along with being exceptionally talented at tennis, Melanie is also academically skilled and has an important role in Hutchison's community. 
While talking about academics Melanie said, "I have to put a lot more effort into my classes this year, but my goal right now is to have good grades by the end of this semester." Melanie is taking many advanced honors classes this year along with AP United States History. She manages her time well and is the sophomore representative of the Hutchison athletic council. She is also in the Chinese Club, Memphis Medical Awareness Club, and Joy Club. Additionally, Melanie started playing the piccolo, which is a small flute! 
When asked to describe Woodbury, Hira Janjua ('24) said, "Melanie is a hilarious and smart person who always makes my day better." Although she may appear as intimidating while she plays tennis, Melanie Woodbury is a great friend who can make anyone laugh. Her determination and resilience makes her have a significant impact at Hutchison, and her persevering mindset will hopefully allow her succeed in all of her goals.
View Comments (1)